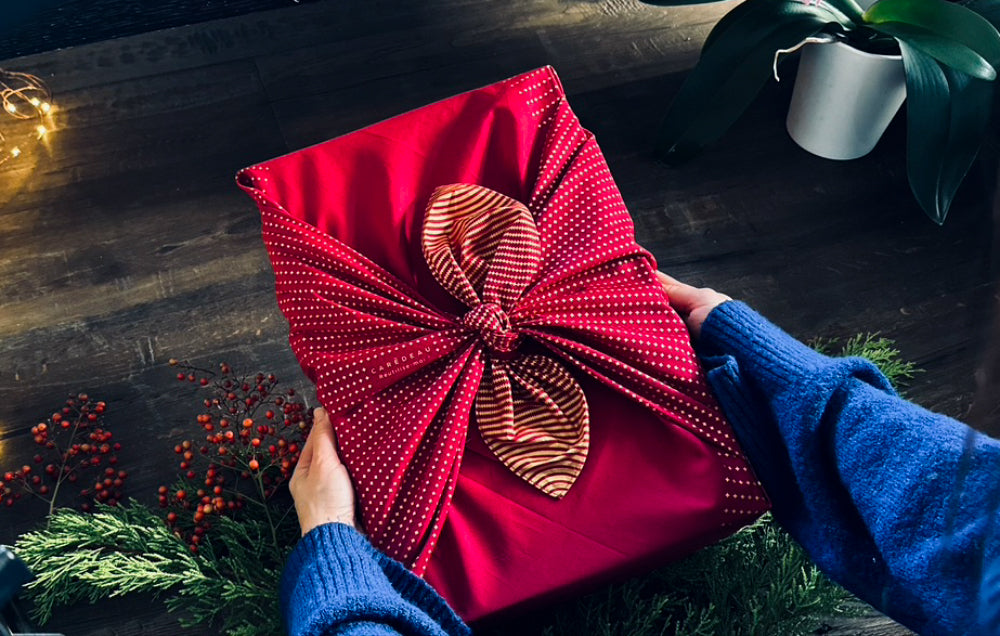 Welcome to
the french designer brand for reusable gift wraps
Big family ? Multi-size packs?
We offer packs of 3pcs or packs of 10pcs
Discover our inspirations
Whether it's Jules Verne's taste for adventure or La Fontaine's fables... or a touch of Proust nostalgia... our designs remain French and chic. Discover them:
View our collections
Not very slippery, the Monochrome collection is designed to facilitate beginners in the furoshiki technique. The Luxe Satin collection, with its satiny and soft texture of noble cotton, will appeal to lovers of furoshiki art.



Is this a double gift or should I take it back?
At your pleasure! Among our Japanese friends, we use furoshiki packaging. It's a bit like offering a cake during a visit, and the host takes the cake while returning the dish.
Shop Now
Carédeau is celebrating its 5th anniversary!
The adventure began in 2019, and we are proud to be with you for the 5th year this year.
About
French furoshiki made-in-France
Since 2019, Carédeau has been creating a wave in Europe with the Luxe Satin collection with sublime patterns. Now it is handmade with care (and love) in a sewing workshop in Comines.
Shop Now
THEY TALK ABOUT US !
WOULD YOU LIKE TO LEAVE US A COMMENT? CLICK HERE !
"There is a very chic, very sophisticated little side. It's a bit like dressing up gifts with an evening outfit"
We tested these "gift" fabrics and we must first salute the patterns, which are really nice and quite diverse, from the most classic for Christmas (with reindeer or green and red forest) to the most artistic (geometric patterns, etc.) . The quality of the fabrics is there: fluid enough to allow packaging, but also thick enough to contain anything and everything (from a bottle of wine to a box of Lego!).
And the bet paid off! The gift squares are decorated with fun, elegant or festive designs, from which it is difficult to choose because they are so attractive. Designed and created in France, the packaging is of very good quality: silky, and slightly heavier than other textiles (thanks to a specific weave), the 100% responsible cotton fabrics are particularly pleasant to handle.
Zoom on a Carédeau
Our team's favorite, 'The Deer Seeing Himself in the Water' is designed taking inspiration from the work of La Fontaine.






Carédeau Luxury Satin Reusable Gift Wrap: The deer seeing itself in the water - Furoshiki Size M
Village News
Blogs contributed by community members who seek to reduce the consumption of disposable gift wrap. If you too would like to share your thoughts, click here.
Novelty
A report on the reusable gift paper phenomenon, here with Carédeau